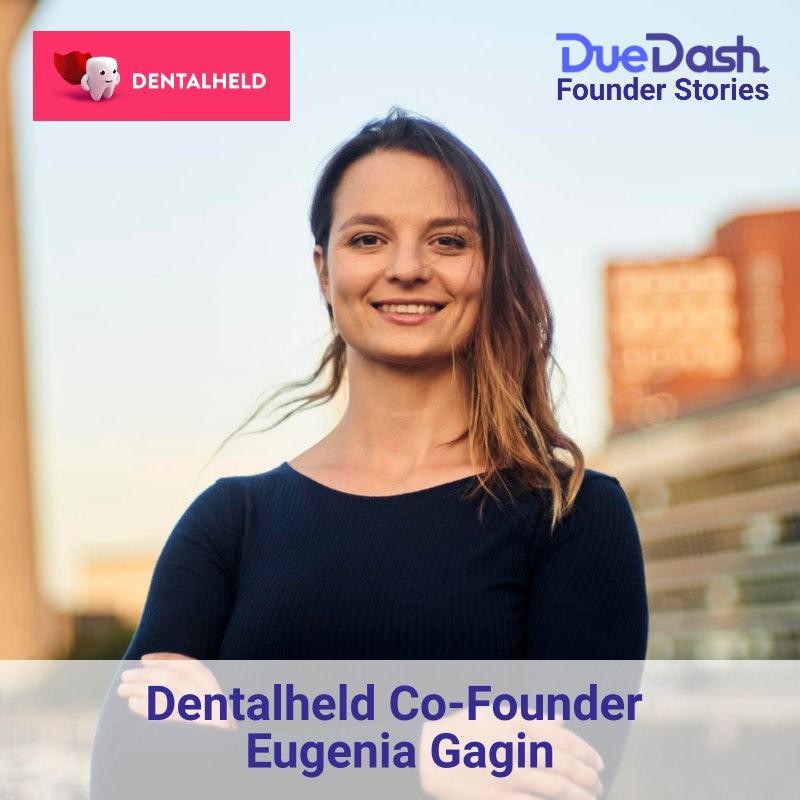 Launched in November 2018, Dentalheld has grown to a heroic platform, offering over 120.000 dental products from various suppliers to dental practices and dental laboratories throughout Germany. Why do customers love to buy their dental products through this platform? Dentalheld's smart algorithms automatically compare the product and shipping costs of all listed suppliers and optimize the basked accordingly, allowing customers to save up to 60 percent on their purchases.
Eugenia Gagin: My Co-Founder Dr. Maximilian Auf der Lanver had the initial idea for Dentalheld. Being a dentist himself, he was quite familiar with the struggle to order the necessary dental products: a jungle of suppliers and prices paired with a lack of digitalization. His vision: to build the Amazon of the dental world and simplify the price comparison by adding smart algorithms to the platform. Max and I met rather by coincidence. Before joining Dentalheld, I worked for an auditing company, specializing in company valuations and consulting services.
However, I decided to quit the area after 5 years and went on a 6-month journey throughout South East Asia, where I met different entrepreneurs and discovered my interest in startups. Shortly after coming back to Germany, I stumbled across a vacancy, where Max was searching for support to launch the platform quickly. A few meetings and a trial phase later, it was clear, that Max and I will combine our "powers" to launch Dentalheld and pursue the mission to help dentists around
Eugenia Gagin: So far, we are completely bootstrapping our business. However, we have always been open to talking with possible investors – for us, it's all about a good fit, rather than just raising money.
Which were the challenges your startup had to overcome?
Eugenia Gagin: The biggest challenge was to solve the chicken and egg problem. Since Dentalheld is a B2B2B platform, we needed to acquire a minimum number of suppliers before launch, to attract first customers. At the same time, supplier acquisition was quite hard without a proof of concept and a lack of customers. However, once the first bigger suppliers were on board, others followed. Nowadays new suppliers are contacting us to get listed on our platform.
During Corona, we had to face a new challenge: the lack of medical masks and gloves, which are crucial to many medical professionals, led to severe delays in delivery of the products as well as an increased level of support from the suppliers' side. Customer satisfaction dropped temporarily. However, our team put lots of effort into supporting the suppliers and customers and, where possible, offered alternative products to customers so that the treatment of their patients could be continued.
How did you become an entrepreneur?
Eugenia Gagin: I grew up in an environment, where I was taught that I should aim for a secure and well-paid position as an employee. So, I never intended to become an entrepreneur in the first place and decided to study business law (LL.B. / LL.M.). Legal and economic issues always seemed to interest me as well as corporate structures in general. Afterward, I started working in an audit company but quit after around 5 years. Since I was not sure, where my journey would take me, I spend 6 months backpacking around SEA, meeting lots of interesting people. The most memorable experience in regard to my journey as an entrepreneur: When I arrived in Ho-Chi-Minh city, I met a woman called Nhung Phan who was sitting next to me during the breakfast at our hostel.
We talked about lots of things, and she told me to let her know if I decide to visit Can Tho region and want to grab a coffee there – she was living in Can Tho and was just visiting Ho-Chi-Minh for business purposes. After a few days we actually met, and I spend around 10 days with her and one of her business partners. They were working on a business idea related to farming and since they wanted to have foreign investors involved, I helped them with some feedback on their idea, documents needed and their pitch deck.
One day, Nhung and I were talking about the future and what I was planning to do once I'm back to Germany – which would have been in around 4 weeks. I actually had no idea, so I told her, I'll just come back, screen some job offers and see where I'll end up. Her response was something like "I don't think you will ever go back to being employed. I'm pretty sure, you will become an entrepreneur." I laughed it off because I thought of it as kind of a crazy idea. Long story short: It wasn't. When I came back, no job offers caught my eye and I decided to get more involved within the startup community and met my current co-founder at one point.
Which were the challenges you had to overcome?
Eugenia Gagin: Being a founder is like going on a long roller coaster ride. You must be prepared for many ups and downs. It can be also quite frustrating to be doubted by people closest to you – they do not mean any harm but are afraid that you are taking the wrong path. Such conversations can really drain your energy every now and then – especially when you already had a tough week.
Therefore, it is important to believe in yourself, in your own skills, and your team. It also helps a lot to be surrounded by other founders who are experiencing comparable challenges – to meet and talk with like-minded people on a regular basis can really help to keep the motivation going.
Key learnings as an entrepreneur
Eugenia Gagin: First of all: building a strong network is key. There is no "too early" to start. You have to go out and talk with people about your idea and challenges, get feedback, improve your product. Being able to understand what you can and cannot do is important as well – once you are honest with yourself about this issue, it will be easier to get help and grow your idea faster. Make sure, that you have a good and diverse (founding) team – you should complement each other in terms of strengths.
Also you do not have to start big – sometimes it's better to start small, grow slower and keep your autonomy until you have a good and valid product – but it always depends on the market and product you offer.
So know your market, know your competitors, know your customers and be agile. And finally: since being a founder can be quite overwhelming at times, do not forget to eat healthy, exercise, and try to have a proper break every now and then.
All of us have to manage a tough schedule, but it won't help your company if you are not 100% fit and able to perform your best. Also, little breaks will help to step out of your bubble and be more creative and productive once you get back to work. I actually love to meditate every now and then, although I'm not doing it as regularly as I should.
Video Tutorial: Versandkosten sparen