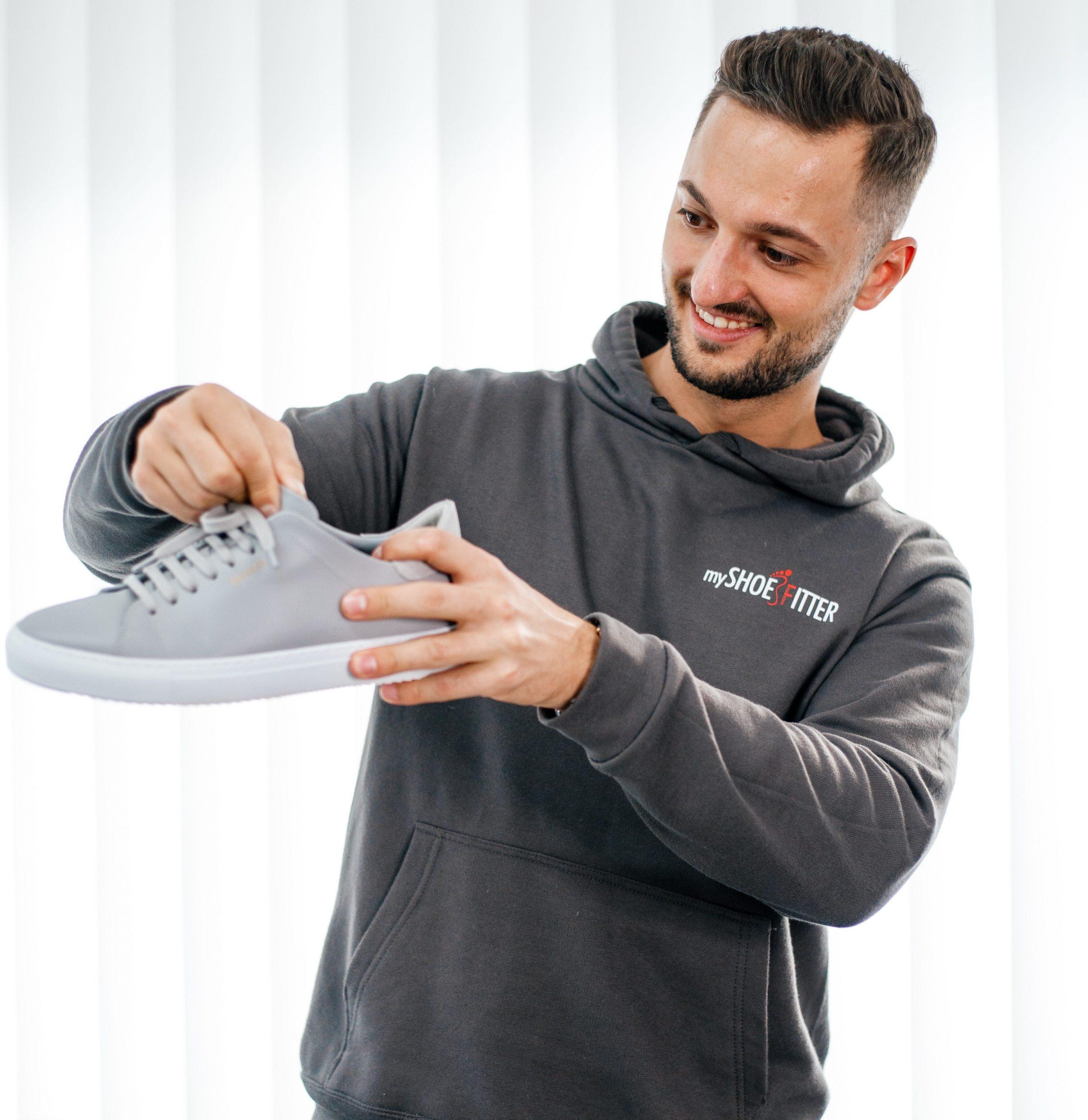 MySHOEFITTER is a scientifically based, biometric foot measurement technology for smartphones and tablets, which enables users to easily size feet with millimeter accuracy to consequently determine the exact fitting shoe size for the respective shoe model during the online ordering process.
75% of all shoes returned are size-related.
Frederik Dürr: We offer footwear online stores revolutionary technology to reduce returns, maximize profits and optimize the customer journey. 50% of all shoes ordered online are returned. About 75% of returns are size-related. A single return in Germany costs an average of 15.18€. We know that online stores suffer enormously from these high return costs. The environment suffers too: each return causes 500g of CO2 emissions, packaging waste, and destruction of goods, as well as delivery traffic that clogs up city centers.
The solution to this is quite simple: online customers must simply always be able to order the right shoes. And that's possible with our digital foot measurement application, which was developed in close cooperation with the Fraunhofer Institute. With our application (for smartphones and tablets available) customers can easily determine their perfect fitting shoe size.
All they have to do is take a photo of their foot – and we do the rest. Via the photo, our complex image analysis algorithms – paired with our Deep Learning (AI) – can measure the customer's foot with millimeter precision. We then compare the measured foot dimensions with the inner shoe dimensions of the desired shoe model, so that we directly show customers their perfectly fitting size.
The result: the online ordered shoes will fit 100%. With this solution, shops can reduce up to 75% of their returns. They can also gain the trust of their customers and optimize their customer experience, leading to higher conversions and more revenue. With each prevented return they also avoid environmental pollution which is associated with returns. MySHOEFITTER can be easily implemented in every online store.
Sometimes a Facebook message is enough
Frederik Dürr: That's a funny story. Many years ago, I wanted to found a company in eCommerce. At that time I read an article in the newspaper about Markus' successful former companies at the time (Jogging-point.De & tennis-point.De) – and I wrote to him on Facebook and asked him for tips. That's how we met. And I met Claudia through Markus in the course of founding mySHOEFITTER.
In the meantime, we are not only connected professionally but also as friends. As co-founder of the two eCommerce platforms, Markus was very annoyed about the high return rates in the shoe segment. After some time, his attempt to do something about the returns gave rise to mySHOEFITTER – and now here we are!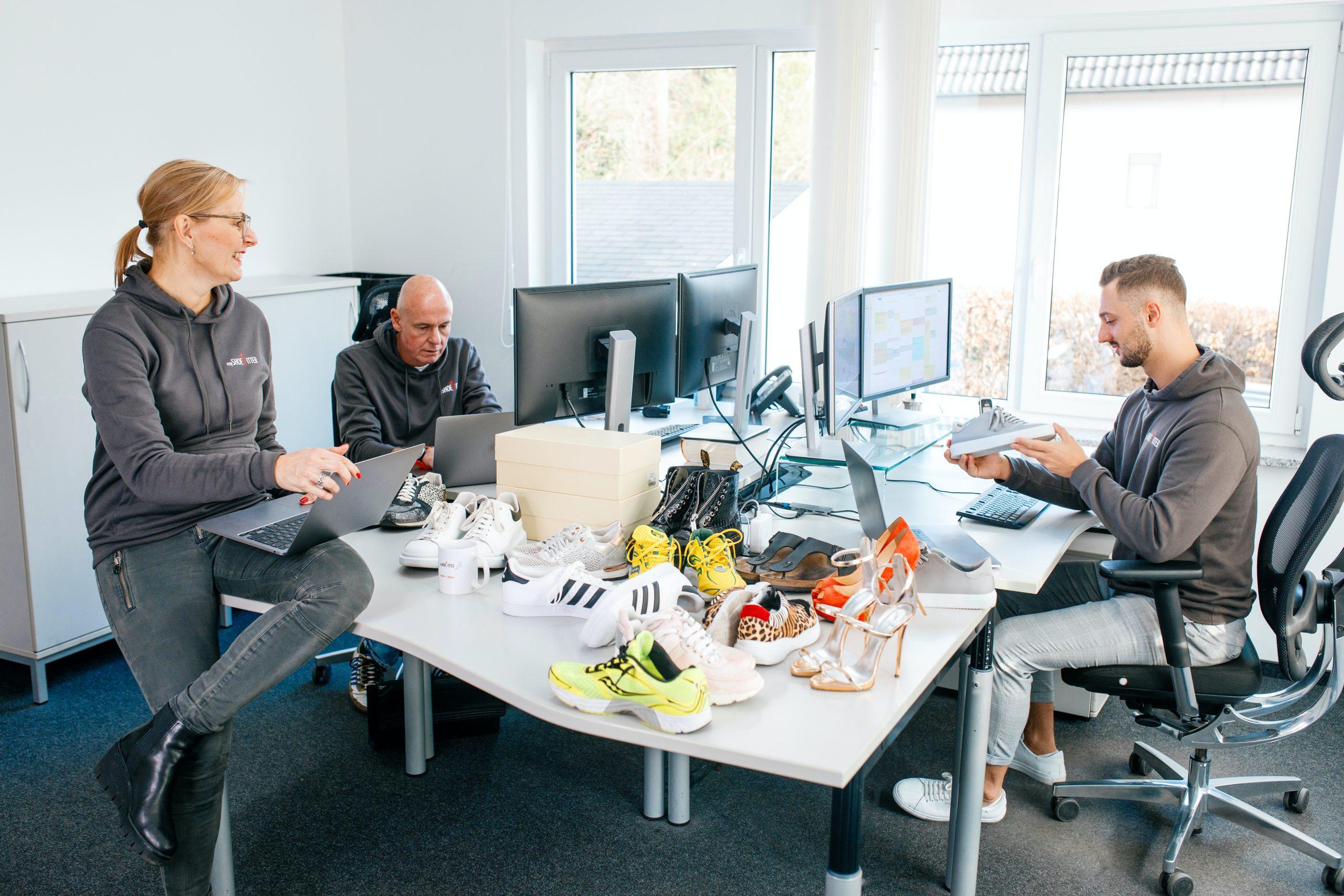 Financing through scientific support
Overcoming Covid and challenges as a founder
Frederik Dürr: Fortunately, so far everything has worked out as we had imagined. The only challenge that we had was extremely long processing times from public authorities. Due to Covid, they worked very slowly and we had to wait months for our foundation and registration in the commercial register so that we could not operate for a long time.
When it comes to my personal journey it was setbacks in my past ventures. My nightlife business drained me so much at some point with all the night shifts that I stopped doing it at some point. I also had a major setback when I lost a lot of money with a Chinese supplier who delivered a large batch of very poor-quality products that were unusable.
Inspired by family and learning the value of networks
Frederik Dürr: I always wanted to set up something of my own. My father is self-employed himself and I realized that I also wanted to work for myself – and not for someone else. After doing a lot of jobs in my teens, I tried out different ventures myself, from nightlife to eCommerce. At some point, I got the chance to join mySHOEFITTER, which I am very proud of because we can have a really positive impact on society and the environment with our technology.
My key learning was that you should never give up, even if you experience severe setbacks. I also learned how important it is to network and reach out to other people – because that's how I met Markus, for example, which later led to the founding of mySHOEFITTER.
Anything else you would like to share?
Frederik Dürr: If you have any questions about: – mySHOEFITTER, our technology, and our application, – shoes, shoe sizes, and eCommerce, – returns and returns avoidance, – or sustainability, you are welcome to write to me at any time.