You've got to know who's investing in your region. This gives you the opportunity to carefully assess who to approach and who to let into your business as an investor.
This article lists top Angel Groups in the UK, both National and Regional, that can potentially help you if you would seek angel investment.
Angel investment makes up a considerable percentage of the funds raised every year by investable entrepreneurs. Unlike Venture Capital (VC) investment, which tends to come from large corporate or institutional investors, Angel Investors are much more personal and 'hands-on'.
Most Angel Investors have been entrepreneurs themselves. In fact, the funds they're going to inject into your start-up almost certainly come from the money they made when they exited their own successful ventures.
This time around, they want to share their wealth, knowledge, and experience with early-stage founders just like you — although they're unlikely to do it out of altruism. The typical Angel Investor will usually take a 10% to 30% stake in your start-up for their financial and business-savvy support.
That's why it's important not to focus solely on the money when an Angel Investor shows interest in you. In our experience, it's often the Angel Investors who offer the smallest funds that ultimately give early-stage start-ups the biggest time and value.
Related: The Top UK Venture Capitalist Firms in the United Kingdom
Angel Groups (also known as Angel Networks or Angel Investment networks) have become increasingly popular in the UK over the last few years.
As the name suggests, an Angel Group is a bunch of Angel Investors who have joined together to create a syndicate. This lets them combine their capital into a bigger pot to make much larger joint investments and also gives them the ability to share knowledge and expertise in assessing the investment opportunity – de-risking the investment considerably and providing increased reassurance.
What are Angel Investors looking for?
These evergreen business sectors will always get an Angel Investors' attention: technology, healthcare, biotech, life sciences, pharmaceuticals, and education. That's not to say you shouldn't look for angel investment if your start-up is in another area, but most Angels like to invest in early-stage businesses that offer practical solutions to global problems.
This is reflected in the encouraging fact that, according to recent figures released by the British Business Bank, Angels have invested twice as much in seed rounds since the COVID-19 pandemic began.
Angel Groups offer investable entrepreneurs an opportunity. It's wise not to ignore them and they're always eager to get involved in smart investments.
Below is a list of the UK's top Angel Groups, listed nationally and regionally. It's by no means a comprehensive list because the funding landscape constantly changes, and many investors prefer to remain in the background and not publicly announce their activity.
However, these are the Angel Groups who have already been in for the long haul and whose names most regularly appear in 'top angels' lists year-in and year-out.
London-based Angel Groups
1. 24Haymarket
24Haymarket is a sector-agnostic Angel Network, although it mostly favours disruptive companies in the healthcare, industrial, consumer, technology, and media industries. 24Haymarket's headquarters are in London, but it has a regional office in Edinburgh. Although it chooses not to publish its investment range, our research shows that 24Haymarket typically invests between £500k-£5m.
Website: https://24haymarket.com/
2. Advantage Business Angels
Advantage Business Angels have been successfully matching investors with entrepreneurs since 2003. Its skill and knowledge in early-stage equity investing stem from nearly 200 years of combined commercial experience gained from owning and managing SMEs, banking, software development, publishing, and property finance. Although Advantage Business Angels are highly selective about the start-ups they back, 70% of their clients raise some or all of the funds they sought.
Website: https://www.advantagebusinessangels.co.uk/
3. AngelClubRCA
AngelClubRCA is an investment network established in late 2015. Its purpose is to encourage design-led start-ups in the UK, and its portfolio covers a wide range of sectors, from agri-tech, med-tech, clean-tech, and construction, to fashion, interiors, and more. They typically raise investments between £100k-£500k and have invested as little as £10k.
AngelClubRCA also offers the InnovationRCA Fund I, which provides access to seed capital to designers, creators, and innovators.
Website: https://www.rca.ac.uk/business/innovationrca/our-start-companies-angelclubrca-and-investment/#angelclubrca
4. Angels in MedCity
Angels in MedCity was launched in 2014 with the aim of connecting angel investors with life sciences entrepreneurs and start-ups. It has a particular focus on diagnostics, digital health, and medical device technologies.
Website: http://www.angelsinmedcity.org.uk/
5. Ascension Syndicate Club
The Ascension Syndicate Club is a group of early-stage angels that invests in SEIS (Seed Enterprise Investment Scheme) eligible start-ups. It is a London-based fund managed by the Ascension Ventures VC and, although sector-agnostic, appears to have a key focus on next-gen media, healthcare, sustainability, and Fintech.
Website: https://www.ascension.vc/founders
6. Craigie Capital
Craigie Capital is a seed-stage angel syndicate based in central London. It focuses on Fintech, Big Data, cyber security, SaaS and Regtech and has so far invested equity in over thirty companies across the technology sectors. Craigie Capital has a particular focus on high-growth and scalable London-based start-ups. However, they support companies across the UK and are open to partnering with entrepreneurs in emerging markets.
Website: http://craigiecapital.com/
7. Envestors
The Envestors' network comprises over four thousand angels who typically invest equity funding between £250k-£2m. They invest across many sectors but seem more interested in SaaS and internet platforms. Their vision is to make it easier for investors to find the right opportunities and for investable entrepreneurs to find the right investors.
Website: https://www.envestors.co.uk/
8. Finstock Capital
Finstock Capital provides short-term financial solutions and longer-term financial support to early-stage businesses seeking to extend their cash flaw runway without diluting their equity. They lend between £100k-£5m across all sectors but primarily focus on early-stage businesses.
Website: https://www.finstockcapital.com/
9. Firestartr
Firestartr backs globally ambitious digital start-ups, helping the most promising entrepreneurs take their companies from seed stage to Series A and beyond. Their portfolio is geared towards the most exciting and disruptive sectors they believe they can add the most value in, especially SaaS/Cloud infrastructure, digital media, Fintech, and e-commerce. Firestartr's angels typically invest around $100k but have invested up to $2m.
Website: http://www.firestartr.co/
10. Newable Ventures
Newable Ventures began operating in the early 1980s under the name London Business Angels. Since then, they have established themselves as one of the oldest, most respected and successful business angel investment networks in the UK and Europe. It has also been recognised as the most active angel network in the UK and is a founding member of the UK Business Angels Association and the European Business Angels Network (EBAN). Newable acquired London Business Angels in 2017. Newable invests in SEIS/EIS qualifying start-ups that typically have a B2B focus and an interest in Deep Tech. To date, their average investments have been in the spectrum of £150k-£2.5m.
Website: https://newable.co.uk/ventures/
11. QVentures
QVentures is a sector-agnostic investment club that comprises angels, sophisticated investors, UHNWIs, family offices, and VCs. It looks for disruptive companies with a proven product-market fit that are positioned to scale from seed to Series B, often in SaaS, consumer tech, Fintech, ad tech, Edtech, Insurtech, and Healthtech. QVentures typically invests between £1m-£5m and has a co-investment requirement that it prefers to follow in a funding round.
Website: https://www.qventures.co/
12. SFC Capital
SFC Capital (formerly Startup Funding Club) is a cohort of business angels and a leader in the UK's early-stage investment world, providing seed capital and support to promising British start-ups. It made its first investment in 2012. Since then, SFC has received many high-profile investment awards for its unique model that allows investors to get exposure to SEIS and EIS qualifying businesses directly or through a diversified portfolio curated and managed by SFC's expert team. SFC Capital typically invests between £100k-£500k, and its portfolio covers a wide range of sectors, including publishing and advertising, transport, clean-tech and eco-innovation, Fintech, healthcare, IoT, food and beverages, and aerospace and defence.
Website: https://sfccapital.com/
Women-focused Angel Investment Networks in the United Kingdom
Although several women-focused angel investment networks are eager to invest in female founders in the UK, many of them – like Astia and Rising Tide Europe – are global or cross-border angel networks that don't focus specifically on these shores alone. Of the networks that do, these are the top two.
13. Angel Academe
Angel Academe is a fast-growing, award-winning angel network focused on backing ambitious technology start-ups that have at least one woman on their founding team. It predominantly consists of female investors, although male investors currently form around 20% of their network, which is presently made up of about four hundred investors. Angel Academe's main areas of investment interest are Fintech, tech, digital media, education, B2B, B2B2C, and cyber security, and it has invested over £5m to date.
Website: https://www.angelacademe.com/
14. Investing Women
Investing Women is based in Edinburgh. Its mission is to drive growth at ambitious start-ups with women founders by creating a pool of angel investors who will act as a catalyst for creating the next generation of female business success stories. Most of Investing Women's angel network have been start-up entrepreneurs themselves, so they understand the many challenges early-stage founders face and offer a wide range of knowledge and experience to draw upon. Investing Women's typical investment is between £50k-£250k, and it has so far backed 21 companies with £2m of investment, 90% of which has gone to female-founded companies.
Website: https://www.investingwomen.co.uk/
Regional Angel Investment Networks
If you're an investable entrepreneur, you don't have to concentrate on London to find an eager and active angel investment network. There are angel groups all over the UK looking to get on board the next exciting start-up opportunity.
North
15. GC Angels
GC Angels is a sector-agnostic fund investing in the Greater Manchester area. It was initially formed to address the imbalances in the North of England's early-stage equity market and believes in unlocking innovation through strategically connected investing. GC Angels typically invest between £25k-£2m, with an average deal of £356k.
Website: https://gcangels.uk/
16. NorthInvest
NorthInvest is a not-for-profit angel investment organisation that helps diverse tech and digital start-ups raise investment. It connects start-ups based in the North of England with a community of angel investors and mentors. In its quest to fund bright ideas, NorthInvest also offers free investor-readiness coaching, facilitates introductions to specialist partners, and manages start-ups' investment processes at no cost. The sectors NorthInvest covers include technology, digital media, Fintech, big data, AI, MedTech, health tech, Edtech, cybersecurity, and Tech for Good. Their typical investment size ranges from £25k-£1m.
Website: https://northinvest.co.uk/

South
17. Bristol Private Equity Club
Bristol Private Equity Club is not a Fund. It is a sector-agnostic group of sophisticated investors that aims to invest in 3-4 companies per year, typically investing around £1m in total. To date, its average deal size is £458k.
Website: https://www.bristolprivateequityclub.com/
18. Dorset Business Angels
Dorset Business Angels is an angel investor network that provides quality, private equity investment opportunities to sophisticated local investors and helps early-stage businesses (primarily those based in southern England) find the equity capital to accelerate their growth. Their typical investment size is £50k-£1m but will consider up to £3m. Dorset Business Angels hold between four and five-pitch events per year plus occasional one-shot opportunities on its website. They are open to pitches from investable entrepreneurs in any sector.
Website: https://dorsetbusinessangels.co.uk/
19. Minerva Business Angel Network
Minerva Business Angel Network is based in Coventry and housed at the University of Warwick Science Park. It was established in 1994 to provide investment to emerging technology start-ups and, to date, has participated in funding rounds with an average deal value of £552k. Minerva Business Angel Network focuses on high-growth technology companies in the West Midlands. If they're not already in the West Midlands, the investees must be able to provide persuasive evidence of an intention to locate there.
Website: https://minerva.uk.net/
20. Oxfordshire Investment Opportunity Network
Oxfordshire Investment Opportunity Network is part of a group of angel networks in the Oxford region, including the Thames Valley Investment Network and Oxford Early Investments. It is interested in business opportunities across a wide range of disruptive technology sectors and connects entrepreneurs and companies seeking investment with active business angels who can provide experience, valuable contacts, and vital capital. Oxfordshire Investment Opportunity Network typically invests between £200k-£2m, with an average value of £617k.
Website: https://www.oion.co.uk/
21. The FSE Group
The FSE Group is an angel investor network that provides funding and support for start-ups and SMEs across Southeast England, primarily Surrey, Hampshire, Berkshire, and Cornwall. It focuses on business potential and works alongside entrepreneurs and SME business owners to help them achieve their growth ambitions. The FSE typically offers equity funding between £50k-£2m, as well as debt funding between £25k-£1m.
Website: https://www.thefsegroup.com/

East
22. Anglia Capital Group
Anglia Capital Group is an ever-growing network of innovative angel investors based in the East of England, established in 2015. It provides private investment for start-ups and early-growth stage businesses, manages its own deal platform, and holds investor events for its members to receive pitches from carefully selected companies throughout the year. Each of those companies goes through a rigorous selection process before being invited to pitch. Still, it is always the individual investor who makes their own decision whether to invest or not.
Website: https://angliacapitalgroup.co.uk/
23. Cambridge Angels
Cambridge Angels is a collaborative Cambridge-based group that actively mentors and invests in innovative entrepreneurial start-ups and ideas to achieve returns and help realise their full potential. Its members invest in a wide range of start-up and scale-up businesses, focusing on technology, the internet, software, hardware, and tools and technologies supporting healthcare. Cambridge Angels' investment level is usually between £50k to £1m, although some of their portfolio companies have raised more than £1m over several funding rounds.
Website: https://cambridgeangels.com/
24. Cambridge Capital Group
Cambridge Capital Group is a business angel network of private investors, family offices, and venture funds. For more than twenty years, it has been investing in technology start-ups across the UK's 'Golden Triangle' of research hubs (Oxford-Cambridge-London). During that time, Cambridge Capital Group has invested more than £30m in a portfolio encompassing more than a hundred hi-tech start-ups. Apart from providing funding, the group also prides itself on the fact that around three-quarters of its members are excited entrepreneurs who have real-world experience building and scaling businesses.
Website: http://www.cambridgecapitalgroup.co.uk/
25. Low Carbon Innovation Fund
Low Carbon Innovation Fund LCIF2 is a venture capital fund that invests in businesses making a measurable impact on greenhouse gas reduction through developing technologies, solutions, products or services. It supports businesses within the Norfolk, Suffolk, Greater Cambridgeshire, Peterborough and Hertfordshire regions of the UK, and their typical investment size is £25k-£500k per round.
Website: https://lcif.vc/

Scotland
26. Archangels
Archangels is an angel investor network initially formed in 1992, making it the world's oldest continuously-operating business angel syndicate. It has been at the forefront of early-stage investing in Scotland and invested exclusively in SEIS and EIS-qualifying Scottish companies throughout that time. Archangels' focus is on the technology and life sciences sectors, including alternative energy solutions, bionics, and biopharmaceuticals.
Website: https://archangelsonline.com/
27. Equity Gap
Equity Gap provides investment to emerging businesses throughout Scotland. It also occasionally invests in high-growth companies in other parts of the UK, although preferably, the start-up should be based in Scotland or willing to relocate. Ideally, the investment should be eligible for SEIS or EIS advance assurance. Equity Gap's typical investment is between £100k-£500k at the initial or seed investment stage, and their portfolio includes a broad range of industries and verticals but excludes property and traditional retail.
Website: https://www.equitygap.co.uk/
28. Kelvin Capital
Kelvin Capital is a Glasgow-based private investment syndicate founded in 2009 and focuses primarily on high growth tech companies. It invests in companies that are already revenue generating or close to commercialisation. To qualify for Kelvin Capital investment, the business must be post-revenue with a maximum of £1m.
Website: https://www.kelvincapital.com/
29. TRICAPITAL
TRICAPITAL is a business angel syndicate based in Scotland that invests in high-growth SMEs based in – or relocating to – Scotland and the North of England. TRICAPITAL offers expertise and investment across a broad spectrum of industry sectors and provides access to an extensive network of entrepreneurial support. However, it mainly focuses on the IT, biomedical, optoelectronics, engineering, and textiles sectors. To date, TRICAPITAL's investments have totalled almost £70m, with an average deal size of £862k.
Website: https://tricapital.co.uk/

Wales
30. Angels Invest Wales
Angels Invest Wales is focused on helping Welsh businesses get the seed finance they need to start up, strengthen, and grow. Although it does not directly invest in businesses, it has a 250+ investor network and an online investment platform to help match investors with compatible start-ups seeking their support. Angels Invest Wales has an £8m co-investment fund and is part of the Development Bank of Wales.
Website: https://developmentbank.wales/other-services/angels-invest-wales

Ireland
31. Halo Business Network (HBAN)
Halo Business Network is the umbrella group responsible for developing business angel activity and angel syndicates on the island of Ireland. HBAN provides qualified deal flow to investors who want to be part of the journey to create great Irish companies. They support early-stage entrepreneurs in both the Republic of Ireland and Northern Ireland. HBAN's preferred sectors are Medtech, software, Agri, clean-tech, manufacturing, food and beverage, and engineering.
Website: https://www.hban.org/
Here's the full list at a glance: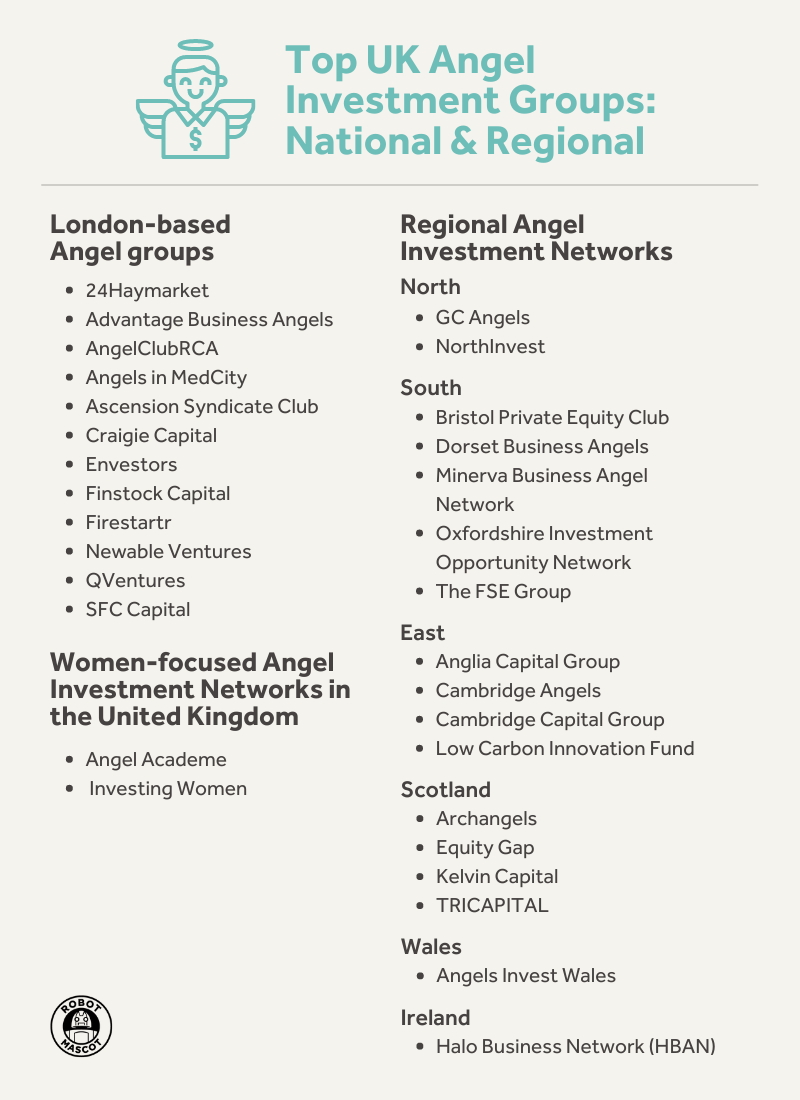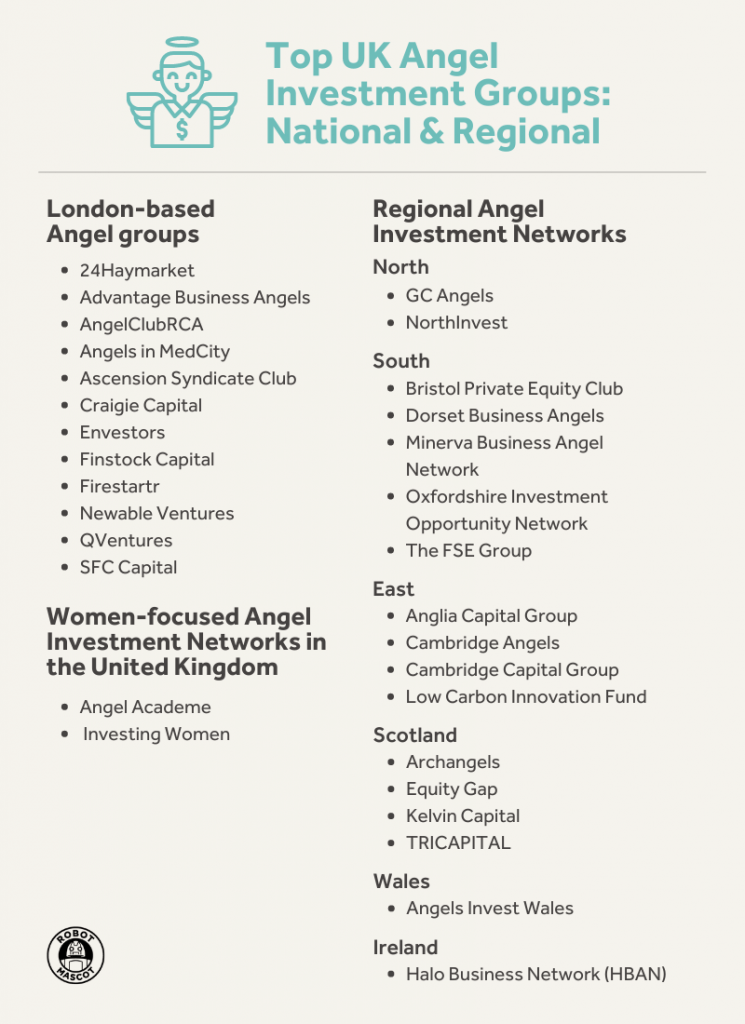 To find out everything else you need to know about raising angel investment, including an invaluable blueprint that will motivate investors of all types to beat a path to your door, download a free copy of Robot Mascot COO James Church's bestselling book, Investable Entrepreneur, here.