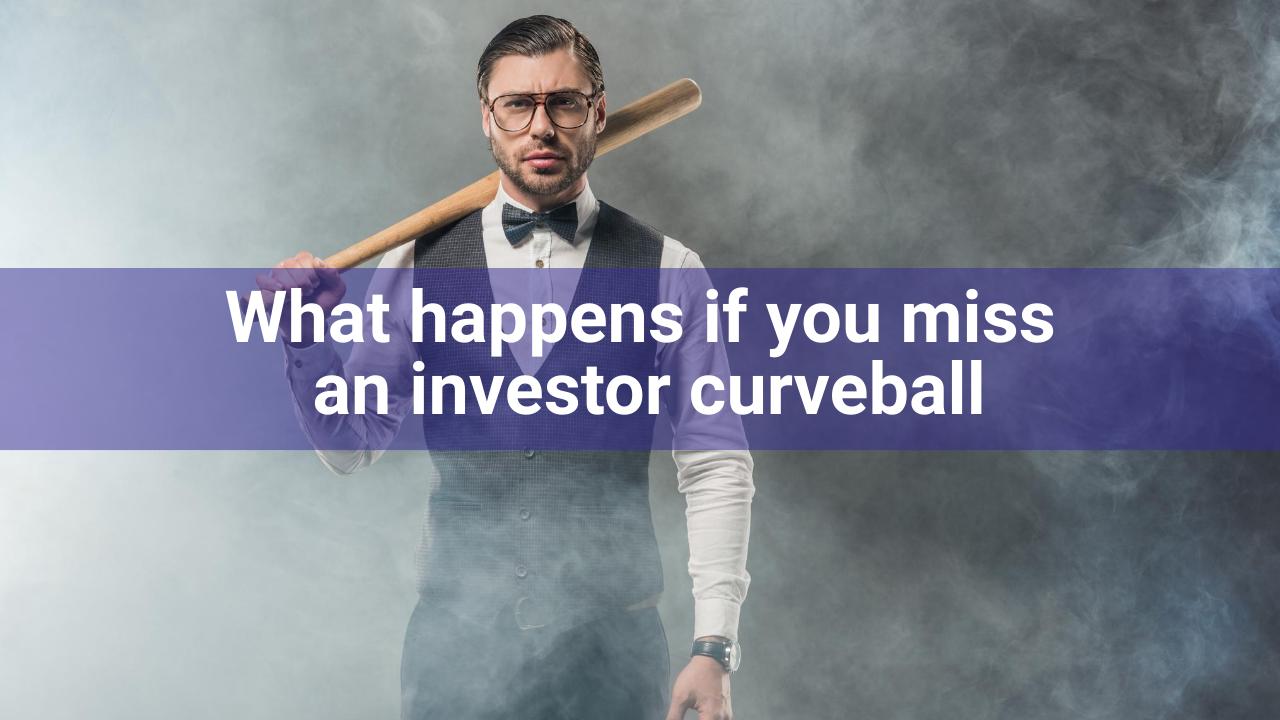 According to CBInsights, 38% of startups fail because they run out of cash or fail to raise new capital.
To blame are often founders themselves. They don't convince investors and receive further funding. But why do so many founders struggle here?
The curveball you don't see coming
One major reason why founders fail to raise capital is that they cannot deal with investor curveball questions. What is a curveball? Just like in baseball, you might receive a ball with a spin that is difficult to hit.
Investors will throw such curveballs at you to throw you off. To confidently invest in you, they need to make sure you know your business and can show them you will succeed.
A curveball is designed to throw you off balance and test you. Investors want to know if you know your business and data well enough. Further, curveballs enable them to see where you struggle, uncover red flags, and be more confident about their investment decision.
Because there is such a high risk to investing your own capital, you want to make sure you bet on the right startup. An early-stage angel might be more willing to go with their gut feeling and see how much they trust you, but even they will ask hard-hitting questions. And latest when you meet angels investing larger amounts, family offices, and VCs you will be subjected to a barrage of complex questions.
Miss the ball, lose the game
So what happens if you miss and investors are not happy with your answers? If you haven't had a meeting this might be the difference between getting an invite or investors passing up on you. You might not get a reply at all anymore or a reply such as you are too early or come back with more traction.
Or, if you are in a meeting already, investors start digging deeper when they see you stumble. They can already smell something that is not right and they will make sure to find out all your secrets. You might try to wiggle around and not get to the point, which either leads to a more angry reaction or investors mentally putting a "no" card on you. The final result is the same, you won't get an investment.
But this is only the case if you cannot properly answer the investors. So you need to be prepared.
Hit back and score a home run
There are roughly 77
questions
investors will ask you in different flavors and differently phrased. Might it be about how you will deal with competitor advantages, technology scaling issues, or achieving impressive growth rates.
And the good part about it is that all these questions are related to
important aspects of your business
and company. If you want to succeed, you definitely need to know the answers to these questions. So, the investors expect that.
Now, where to start? How to prepare for these questions? The answer is simple. Go through them and prepare your own answer. You will only be ready if you take the time to work on them. And it doesn't even need to be hours every day. Even 5 – 15 minutes a day can be a good starting point.
For exactly that we prepared our 77-steps to investability course. An interactive, self-guided digital course that is built to prepare you for any curveballs and build an investable business. A course built on the experience of our founding team with 50+ entrepreneurial experience and having screened for their own investments over 4000+ startups and invested in 40+ startups.
Before your next investor meeting be prepared, instead of missing the ball. And for that, you can
start the course right here
.
Dash to investability
is a course by DueDash, is structured in a simple question and answer format. The
77 Steps to Investability demystifies
the process of start-up fundraising and helps to improve funding outcomes for new business venture. Founders learn about how to structure their product or service such that it is more investable and are able to communicate the investment merits of startup. Become more efficient in the fundraising process, and also improve the terms of investments.