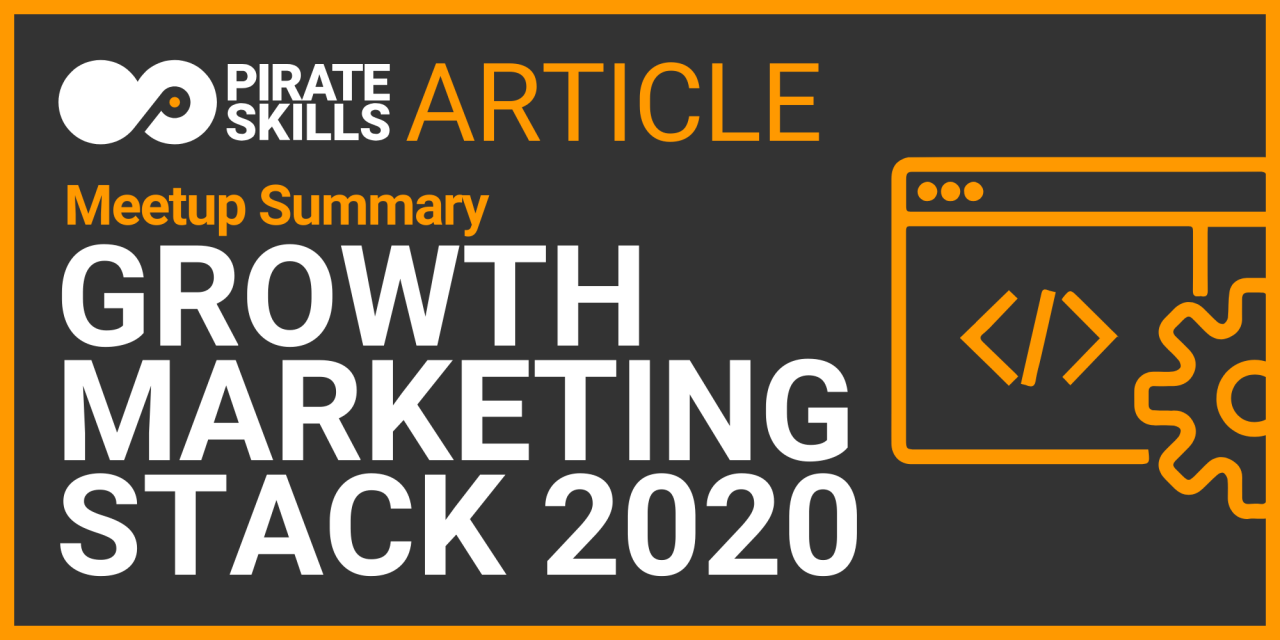 The strategy behind our growth marketing stack
The goal of any growth marketing strategy is to help people through their business' customer journey. Along that journey, we want to achieve lower costs to acquire new customers, deliver the value of our product with higher impact, and increase the customer lifetime value. Today, there are thousands of tools available to help us as growth marketers. That's why we want to share a thoughtfully curated set of tools that have made a meaningful impact on many startups and growing businesses.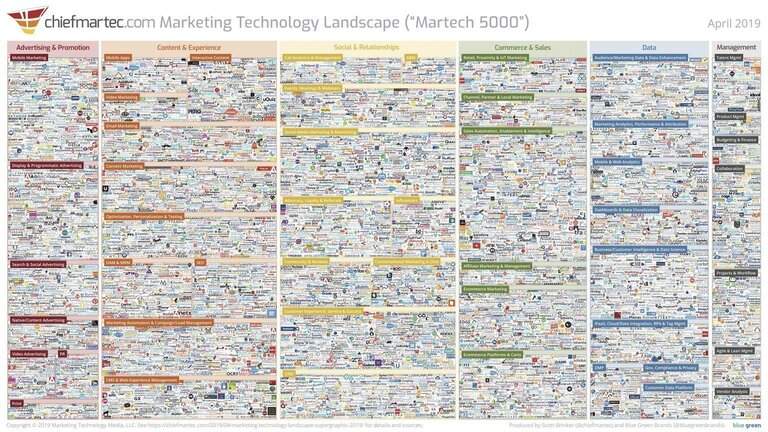 "Acquire, Engage, Analyze." is the growth marketing equivalent to the lean startups "Build, Measure, Learn". We want to increase our ability to learn faster and to put our learnings into action. We acknowledge that our projects are not yet perfectly scaled up multi-million dollar businesses and that it's our primary job to find and understand our customers. Our toolset needs to keep us agile. We have to actively try to avoid long term lock-in because we don't know yet what our customers or we need.
The growth marketing treasure map shows us the customer journey of many business models. Acquisition, activation, retention, referral, and revenue are the five steps in the AARRR metrics framework that Dave McClure shared with us 12 years ago. (https://www.slideshare.net/dmc500hats/startup-metrics-for-pirates-long-version) It gives us the necessary metrics to measure the success of our goal to help people through the customer journey. The growth marketing tools we choose not only have to help us with these steps but also give us feedback on how we are doing.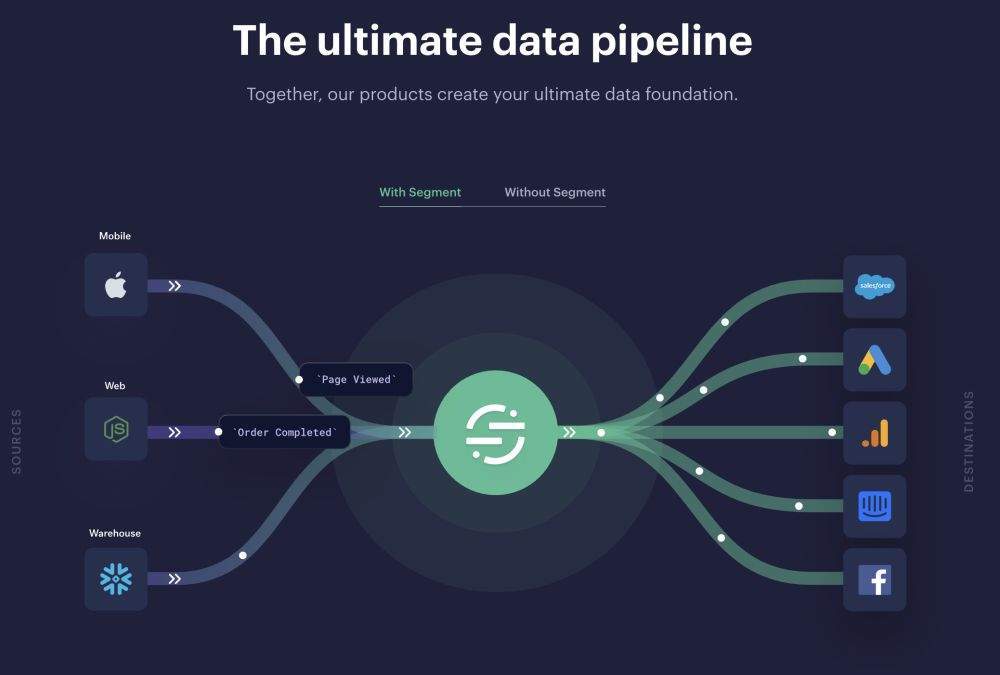 The last goal of this growth marketing stack is for all tools to work smoothly together. We want to avoid data silos like the plague. And we don't want unnecessary customization work to make them fit our needs. We would rather live with a couple of features less if the tool runs in harmony with the rest of our stack. This leads many into the trap of all-in-one solutions that work smoothly but have huge lock-in potential. Meaning, it's tough to change the tools, when you found something better. We'll try to look at the pros and cons of this approach versus a more best-of-breed set of tools with some added data magic.
Tools for organic and paid customer acquisition
It's never been simpler to acquire new customers than now. We have access to online platforms with two billion people. Websites are easy to create and can be found by search engines or linked to by influencers and our social profiles. 10 bucks are often enough to show 1000 people the value we have to offer. Because of this low entry barrier, the amount of competition has increased significantly. The following tools help us to stay on top of our customer acquisition game.
Have your own easy to update website
The base of your growth marketing should be your website. Don't compromise on complicated solutions in 2020. WordPress (https://wordpress.org/) has given us free access to a sophisticated CMS (content management system). With the help of WordPress page builder plugins such as Elementor (https://elementor.com/) or Oxygen (https://oxygenbuilder.com/), everybody can build and change high performing websites. Are you locked into a complicated system already? Consider getting a dedicated landing page tool like Instapage (https://instapage.com/) or Unbounce (https://unbounce.com/). We have to create fast, mobile-ready landing pages with the ability to download a lead magnet (like a free checklist PDF) after a visitor provides some contact data.
Your website is the only place you really own on the internet. Here you have control, while your Facebook and LinkedIn pages and profiles are at the mercy of others. On your website, you can fire any pixel your visitor consents to. It's where you can and should focus your SEO efforts. Tools like MOZ (https://moz.com/) and Ryte (https://ryte.com/) help you find the most relevant keywords, keep an eye on your rankings, and optimize your website for SEO.
Create and publish compelling content
In 2020 it's often more efficient to generate reach and traffic with the help of social media platforms if you have more time than money. But we have to understand that these platforms only provide us with reach when we keep users engaged on their platform. Therefore we need tools to create exciting content like articles, graphics, videos, and beyond. What used to take the time of 3 full-time people can be done part-time today.
Some of the best places to find inspiration for articles are Google Trends (https://trends.google.com/) and Buzzsumo (https://buzzsumo.com/). Based on keywords we provide, they show us trends and viral ideas that we can combine with our ideas. We then often use Canva (https://www.canva.com/) to create graphics that pique users' interest like infographics or article headers. It makes you feel like a real graphic designer. Not satisfied with just images? Then tools like Lumen5 (https://lumen5.com/) will help to craft videos without complicated editing tools. Need something more engaging? Build quizzes, calculators, and polls with Outgrow (https://outgrow.co/).
To save time while publishing all of these content pieces on six different social media platforms, we like to use tools like Buffer (https://buffer.com/) and Coschedule (https://coschedule.com/). For example, you can set up a video post with additional text and hashtags and publish it next Sunday morning while you still sleep. These tools also help to analyze the most popular post types so that you can improve your content marketing over time. Great tools to keep an eye on how it's mentioning you and your brand are Google Alerts (https://www.google.com/alerts) and Mention (https://mention.com/).
Go hunting for leads
Can't be bothered with all the social media fluff? You might have more fun on LinkedIn with their Sales Navigator (https://business.linkedin.com/sales-solutions/sales-navigator). While content marketing feels like a shotgun, this tool hands you a laser. Are you looking for the head of innovation in all companies with 200-500 employees in your area? No problem. Import them to your CRM? Doable. If you have to, you can even automate some of the busy work with LinkedHelper (https://linkedhelper.com/), not that we ever would. And in case you forgot that email address form … find anybody at any company with tools like Hunter (https://hunter.io/try/search/pirateskills.com). In our opinion, you should combine content marketing with a proactive outreach. The first gives you the necessary credibility, the latter the deals.
Multiply your reach with ads
Today's ad platforms are just tools like any other, even though they are by far the most powerful ones on the list. Just imagine what you had to go through only 20 years ago to reach a million people. Nowadays, all you need to do is spend 1000€ on most platforms, and your wish will be granted. The hard part is to put in the time to learn these tools profitably. From our experience, it's one of the most worthwhile goals in your growth marketing journey.
Let's take Google Ads (https://ads.google.com/), for example. There are four, almost entirely distinct products. We have Google search ads that allow us to show people a text ad right at the moment they are searching for a relevant keyword. No other tool can do that (maybe Bing). Google display ads let you put banners on most websites with very detailed targeting options. Google In-app ads let you do the same thing within most iOS and Android apps. And finally, there are Youtube Ads, my current favorite. It allows you to put your ads in front of almost all videos on Youtube. I can currently get 3 hours of watch time on my videos for every 1€ I spend.
It's a similar game on Facebook and Instagram, which you can access through the Facebook Business Manager (https://business.facebook.com/). This is the place to promote your most engaging content pieces. Quotes, videos, articles, and quizzes work very well on these platforms. Consider the personal cost you have invested in creating the content. Why not spend half of that again and be sure to gain 10x the reach, then without the ads. If you are serious about building your email list, I would focus on these platforms. You also have the option to send people to WhatsApp and Facebook Messenger to keep engaging them, which leads us to the next segment about the growth marketing stack for 2020: Tools to engage and convert customers.
Tools to engage and convert customers
Adopt a customer relationship management system (CRM)
Together with your website, this is the most critical tool for a growth marketer. It's where we keep track of all people we care to build trust with. It's a list of all your leads and customers. It can tell you who you initially got in touch with, how engaged a lead is and when the lead becomes a customer. It helps you to understand who your most important customer is and who to avoid in the future. The CRM is the tool I'm most picky about. It has the most long-term consequences, and it is hard to change it later.
Many of us have used an email tool like Mailchimp (https://mailchimp.com/) in the past, and (ab)used it as a CRM. It's an email tool first with added CRM functions. For B2C e-commerce businesses, this might be alright, but not if you plan more than a regular newsletter. For B2C and B2B alike, the next level is ActiveCampaign (https://www.activecampaign.com/), in my opinion. It's a true marketing automation tool with strong CRM, email, and sales capabilities. From there, you would have to jump to a tool like Hubspot (https://www.hubspot.com/), an all-in-one solution for marketing, sales, and support. I am still using it in several projects, but I prefer to pick my own set of tools, but if you don't want to worry about syncing data between tools and have good onboard analytics, check it out.
One of the major benefits you get with a CRM is lead scoring. Imagine every lead in your list had a number from 1 (not likely) to 100 (very likely to become a customer) attached to it. You could tell your marketing and sales team precisely who to focus on. The simplest way to get started is a tool like Zapier, which has a free built-in lead scoring function if you have an email address (https://zapier.com/apps/lead-information). Its currently build on the rather expensive MadKudu (https://www.madkudu.com/). To take it further, it's common practice to give points to specific activities of the contacts in your CRM like download lead magnets, opening emails, requesting a call, etc. Your CRM is tracking those activities.
Stay in regular contact with your leads
Getting somebody on your email list is just the beginning. Now we have to keep earning more trust towards our brand. The most common way to do that is to send regular emails with relevant content to your subscribers. We need a reliable tool to send messages like the before mentioned Mailchimp, ActiveCampaign, or Hubspot. Why not send it all from your Gmail? You quickly be marked as a spammer, and nobody will receive your emails. The tool that seems to have the best grasp of what messaging is about is Intercom (https://www.intercom.com/). It can send emails, live chats on your website, manage support tickets, and even proactively reach out to your users at the right moment. To Intercom, these are all simply messages send through different channels. I like that view because it helps me to see the complete message history of each contact.
Your contacts should hear from your weekly (B2C) or at least monthly (B2B). Otherwise, they will forget you. If you are worried about spamming them, simply don't send spam. Send the lovingly crafted content you have been building to solve your customer's problems, and they won't mind. My preferred way is to send a personalized onboarding message sequence every other week and a regular newsletter in between. At Pirate Skills, we do this with Active Campaign (https://www.activecampaign.com/), but most email tools will do this for you.
Gather customer feedback actively
The ultimate tool for engagement is customer feedback. Since the beginning, we have asked the attendees of our meetups what they liked, disliked, and what they would change, followed by a Net Promoter Score (NPS rating) (http://www.npscalculator.com/). This has been the most valuable resource for improving the relationship with our community. At least once a month, we sit down in the team and pick three new improvements we want to execute.
I love to send out surveys, and for some wild reasons, users like to answer them. My two favorite tools are the free Google Forms (https://docs.google.com/forms) and the more powerful and user-friendly Typeform (https://www.typeform.com/). For general feedback, I like to ask three questions.
What did you like about … ?
How would you change … to make it more helpful for you?
How likely would you recommend … to a friend/colleague? (1-10 scale)
A tool that helps me to do that (and much more) on my websites is Hotjar (https://www.hotjar.com/). It also allows you to replay the website session of each user as a video. This means you can look over the shoulder of your customers while they are using your website. This way, I have found so many silly hurdles I had build for my customer. It's also a great form tracking tool, which leads us to the next segment: Analyze and optimize the customer journey.
Tools to analyze and optimize the customer journey
Acquire, engage, analyze. Let's talk about that last part every growth marketer needs to master and the tools that can help us. Analytics tools are to me like a flashlight in a dark room. I just can't work with merely believing that my content marketing and paid campaigns are working. And I can't afford to waste time and money. Plus, I am committed to make the very best out of every marketing situation and learn what I can from success and failure.
Analyze what your customers are doing
The universal tool to analyze user behavior on websites is Google Analytics (https://marketingplatform.google.com/about/analytics/). It tells us where our users have come from, which pages they visit, and which conversion goals they have completed. It integrates very well with Google Ads and gives us a neutral look at the performance of all other campaigns from emails to influencers, social media, or LinkedIn Ads. In e-commerce cases, we learn about the most profitable product campaigns, and in B2B, we can determine which lead magnet performs the best.
The next upgrade to using just Google Analytics is to use it with the Google Tag Manager (https://marketingplatform.google.com/about/tag-manager/). It enables us to track every critical click, scroll event, and form submission we want. The best part is that we can track 99% of these events without writing a line of code. With GTM, you can add all kinds of additional tools to your website without coding, like chat, popups, or user experience tools.
Optimizing the user experience
Speaking of user experience tools, Google Optimize (https://marketingplatform.google.com/about/optimize/) is a free tool that helps us to create A/B tests and personalizations on our websites. For example, we can show two product pictures or prizes and see which one converts better with which type of audience. While analytics tools help us to see potential bottlenecks, this enables us to do something about it. We talked about it in detail at the "Personalization is the new A/B testing" if you want to deepen your skills in that area.
Link your analytics with your ads
Let's use the example of Facebook ads. With the help of the Facebook pixel, a tool to analyze user behavior, we can see how each campaign, audience segment, or creative is doing in terms of cost per conversion or even return of advertising spent (ROAS). It's very similar to installing Google Analytics, and if you have Google Tag Manager installed, it's incredibly easy. If you have the Facebook pixel installed, it automatically works with Instagram ads as well if you connect it to the same ad account.
You should do that with all the ad platforms you are using. Not doing it would be like flying in the dark, which can be quite expensive in this case. Also, most analytics tools have a so-called SDK for the most popular development frameworks if you have a mobile app. Make good use of them. They are often even more powerful than the web tools, but harder to implement.
That's it! Now you know the tools I love to use to acquire customers, engage with them in a meaningful way, and analyze the success of my ideas.